Development and changes in export sales
It has been said that the only constant in sawn timber business is the change. When one looks at the development of Finnish sawn timber production and exports from 1986 through to 2000 to 2017 one can see that there have been major changes within the countries and even whole market areas.
There have been important changes in the Finnish timber trade environment:
Increase in total production volume and also 

exports

Emergence of new export countries and areas

Reduction in European house building figures

Container deliveries taking over bulk shipments 

in Europe and beyond

Shortening of value chain from produced to 

end user, with less intermediaries

More precise contract terms governing especially 

lengths and grading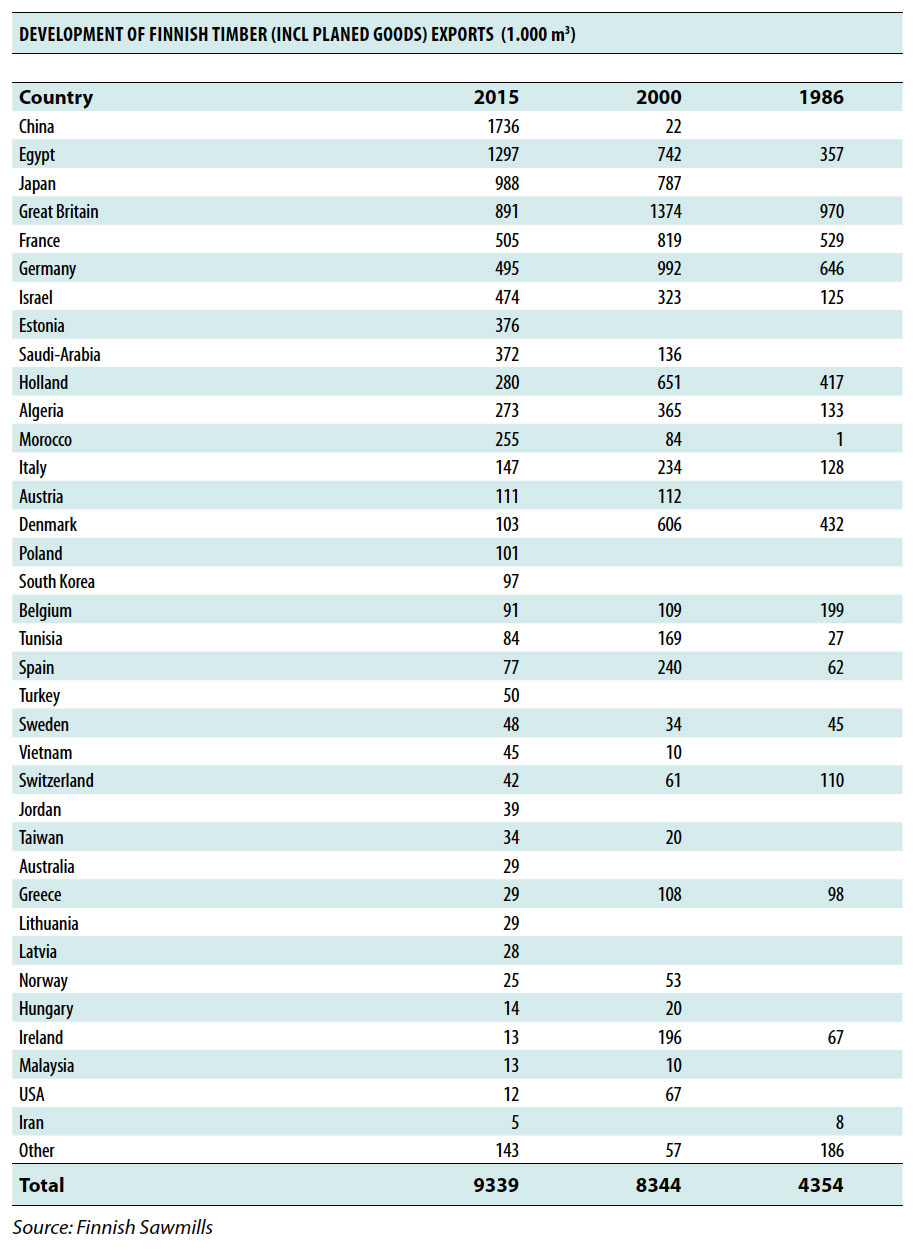 Comparison between the most important export counties demonstrate the trends above:
Europe has always been an important export region for Finland, but the statistics from the past three decades shows clearly, how the sawn timber trade has changed and most of all become global trading.
Situation at year 1986
Europe took most of Finland's 4.4 million cubic meters exports in 1986. Top 15 list had 12 European countries and their volumes were clearly above those of outside Europe.
Great Britain was then and is actually still Europe's largest importer of timber products, despite the growth of its own sawmilling industry. Together with Denmark it was the most important market for higher grades in Redwood, while Egypt grew to become the main market for low grades. Germany, Holland and France were all important markets for good quality Whitewood.
Situation at year 2000
By year 2000 Finland's exports had almost doubled to 8.3 million cubic meters. Europe's share was still 2/3 of the total exports, but by this time the growth of sales to outside Europe started to show.
Northern African and Middle Eastern volumes grew markedly, but actually Japan become Finland's biggest export market outside Europe.
In the Top 15 table the number of non-European markets doubled to six. However, the European demand was strong, which shows in the overall figures.
Situation at year 2017
The 2017 statistics shows major changes in the export structure. China had grown in a decade to become the biggest export market, with Egypt following as number two.
In Europe, the Great Britain continued to be the leading European market, but encouragingly the impressive Chinese export figure included proper increases in Redwood as well. Time will tell if China becomes an important, regular market for both species. Japan continued to be an important market for Finnish sawmills and producers of glulam and other further processed goods.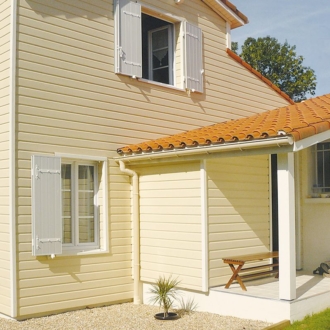 Redwood pine timber has been used in the exterior cladding of a French family house. © UPM
In Whitewood Germany and France continue as buyers of good quality Whitewood for both general planning purposes and glulam beams.
Estonia has become for Finland the second largest export market for Redwood. There are two main reasons:
As much of the Finnish planing and other further processing capacity has been reduced Estonia has taken the role of processing goods for the Finnish market – therefore some of the goods exported to Estonia find their way back to Finland.
Estonia has also become a major exporter of processed goods to Europe as well.
Morocco has stabilized its position as an export market for Redwood in large dimensions. Together with Algeria and Tunisia it forms an important market for better qualities.
Northern Africa and the Middle East
Northern Africa and the Middle East have over 1000 year's tradition of using wood. There are several records of this, even in the Bible.
Redwood and whitewood markets
Wood is still appreciated because it is a versatile material, which is easy to work with and which is also reasonably priced. About 80% of the Finnish timber sold in this region is Redwood, of which 90% is used for joinery products like doors, windows and furniture. Some of the imported Whitewood is used for furniture as well, but the buyers prefer Redwood. Exports of Whitewood to this area are based on lower grades and prices.
The growth forecast
Sawn timber exports to the region has grown manifold in the past 20 years and it has become an important export market for Redwood.
There are several reasons for growth
There are over 300 million people 

and the population grows at the rate of 1.5% 

per annum, the average age is only 25 years. 

Therefore, it is important for the stability of 

the region to build dwellings for the young 

people.

Since the 1990s the increased oil revenues 

have facilitated impressive house build programmes. 

Richer oil producing countries have 

granted low interest loans to their poorer allies. 

Furthermore, institutions like the World 

Bank have granted infrastructural loans to the 

region.
Shipping connections to these countries have improved markedly in the past years and now there are regular sailings to most of these countries, facilitating smaller contracts and deliveries.
Biggest threats for business, on top of the oil price fluctuations, are mainly linked to politics. The gap between the rich and the poor is wide, and with the exception of Tunisia, only a small proportion of the population belongs to the middle class.
Strong growth of population restricts employment possibilities especially for younger people. Finally, there is a broader issue of global warming, which will possibly cause further problems in these hotter regions.
Morocco
Morocco is a tempting export market for Redwood in larger sizes, which otherwise have these days more limited markets elsewhere.
Customers also insist on getting good quality products, somewhat limiting the market for some shippers.
Sweden has already dominated Moroccan imports for a long time by having created close contracts with a few main importers. As a result of this many Finns have teamed up with the next level of importers.
Algeria
Algeria has been a Finnish stronghold, where the Swedes have started penetrating only in recent years. Finnish strength has come from better lengths and specifications, but the Swedes are now catching up. Swedes have also been aggressive in their pricing, which has been partly assisted by devalued Swedish Krona.
The interest in Algerian specifications stems from the fact that required dimensions are produced largely form the middle-sized logs, which sawmills tend to have enough of. Algerian specification – not only offering wide range of cutting options – is also taking the grades pretty much as falling. Considering that the Algerian prices have been favourable as well it is no wonder that the mills have been keen to do volume business there year in year out.
Tunisia
Tunisia is perhaps the most developed country in Northern Africa, despite not having oil. Main revenues are generated from tourism and agriculture.
Tunisians are also extremely demanding customers. They are even prepared to pay a higher price as long as they get timber from producers, which have got a good reputation in Tunisia. Timber has lost market to MDF and aluminium as raw materials for doors and windows, sawn goods are now used mostly for exterior doors – where the hardwoods are emerging as a competitor.
With the reduction is the use of timber for joinery purposes the specifications have become more difficult. Length requirements have crept in and as the required high grades result in sizable volumes falling products, which have to be sold on other markets. The changes in Tunisian specification have led to lower grades becoming more important.
Egypt
Egypt is the most important export market for low sawn timber grades. The country has become the biggest export market for Finnish Redwood and it can utilize easily most of the sawn timber sizes.
The Egyptians tend to follow one another when buying and when not buying, therefore sometimes the market get flooded with goods – until the famine sets in and the frantic purchasing cycle sets in.
However, the fact that Egypt takes such huge volumes of mainly Sixths and schaalboards is imperative for the Finnish sawmillers, because there have not been alternative volume markets for these products. Until now that the Chinese have started taking the same goods.
Saudi-Arabia
Saudi Arabia has been a Redwood market mainly for the Swedes, who have supplied raw materials mostly for windows and door frames.
Finns on the other hand have dominated the Whitewood market. Especially the smaller contractors are using for concrete formwork 22×100 and 25×100 Whitewood boards, which are cut to lengths 3.0m and 3.3m.
These are respectively the height of the pillar and their length for one another. In past years the trend has been to use more 25mm thickness for the formwork. There is, however, a possibility that the use of boards will diminish at the expense of cheap plywood options.
Libya, Irak, Iran, Jordania, Sudan and Jemen
There are other countries in this area with some business potential. These include Libya, Iran and Iraq, but at least currently the potential for business in these countries is limited by instability and lack of available currency.
Jordan, Sudan and Yemen are already buying some wood primarily from Southern Sweden. Their specifications include a lot of wide Sixths boards and centre cut dimensions, which the Finnish mills cannot usually offer in any larger volumes.
Asia
Japani
The Asian market opened up in the 1990s, when big Japanese trading houses started buying cargoes of Whitewood in various dimensions.
The trade increased quickly and gradually the specifications changed to meet the Japanese sizes and lengths, both of which were different than the traditional Nordic measurements.
The three main export articles from Finland to Japan are:
Lamina: used for laminated beams and 

posts; or ready-made beams and posts

Genban: raw material for raw material to 

planning mills

Mabashira, Dobuchi and Taruki: various 

planed products
As container freights to Asia have become more competitive, most of the goods are transported there in this way. Container business also enables the shippers to go closer to the end user, by-passing the traders.
About 70% of Japanese land area is covered with forests, mainly coniferous trees. The volume of forests is approximately 5 billion m3, whereof about 60% has been planted after the 2nd World War. Japan has long traditions of using wood in building work – especially for one family homes, where most of Finnish timber ends up.
In the last years the timber frame construction method has been the most common way of building houses, with about 70% of the housing starts. Timber frame faces competition from light weight steel structures and concrete, and the combination of these two. Suburban houses are two stories high, with an average living area of 120 square meters.
The three main export articles from Finland to Japan are:
Post & Beam structure, which consumes 

over half of all Nordic and European timber 

imports mainly as glued posts and beams. 

The frame has been connected with iron 

bolts and sheets (zairai).

The 2×4 method, which originates from 

Northern America. For this construction 

mainly Canadian SPF (Spruce, Pine, Fir) 

is used.

Prefab (the frames are prefabricated/manufactured 

in a factory setup) is growing 

fast, challenging the above methods.
Main reason for the popularity of wooden frame is the speed of construction. The house can be erected in a few days, whereas the concrete method would take several months. Furthermore, the wooden frame is relatively easy to assemble without carpenters, as nowadays the components are delivered to the site cross cut to right size. In a country, where labour is expensive, this is an important factor. 
The ready-made EWP components, made of Nordic Redwood and Whitewood, are strong and durable. They enable the engineers and planners to make accurate calculations of the structures and their strength. This is especially relevant in seismic areas, such as Japan.
In Japan the basic structure, which is against concrete, must be protected against termites. Untreated Japanese Cypress has been used for this purpose for hundreds of years, but as it is not any more freely available and it is therefore very expensive. Treated Nordic wood is well suited to substitute the Japanese Cypress. The accuracy of dimensions is crucial in Japan, as is the good kilning.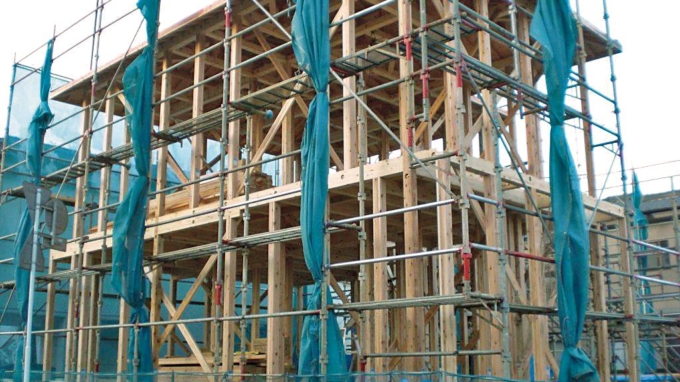 China and other Asian markets
China, Taiwan and other Asian markets are different type of users of Nordic timber.
In the 1990s the Taiwanese furniture manufacturers started first using sound knotted Redwood for furniture manufacturing. Gradually they changed over to Whitewood, because of the pale texture and – as it was then – the cost was slightly lower than in Redwood.
The furniture manufacturing has expanded in Asia and these days raw materials are sold to Malesia, Thailand, South Korea, Indonesia, Vietnam, Cambodia and especially to the Republic of China.
The urbanization, the two-child policy and the increase in general wealth have all contributed to the sudden growth for the furniture products.
Especially China as a market has grown very rapidly in the past years and has become the biggest export market for Finland.
Chinese deliveries contain several dimensions, but sideboards are an important part of the specification. Because the goods are cross cut to short components the lengths are not that important, but for instance the kilning has to be properly done.
Payments at China
Deliveries to China have taken place mainly in containers, but there have been conventional shipments, too.
Payments were at first based on Letters of Credit (L/C), whereby buyer's bank agrees to pay the invoice, provided the necessary documents are presented to them within the time the L/C is open. Currently the Cash Against Documents (CAD) payment has become more commonplace as the trading relationships have been well established.
It is very important for the Chinese to gain trust with the seller. Once this is in place between the buyer and seller the business becomes regular. As with any business in all regions, there are always some risks involved. In China these may be linked to the container availability and fluctuating freight rates and currency risks.
Northern America
Since the 1990s and early 2000s the role of Finnish timber industry has been minute in the Northern America, despite that, the region is the largest market area for coniferous timber.
Both Canada and USA saw several timber species, but in general from the Scandinavian perspective their quality and price are similar to Nordic VI/V grades and their prices. This, together with their logistic advantage, favours those European producers based in Germany, Southern Sweden and Austria. In Northern America there are no mass markets for the U/S type knot qualities.
USA
In USA the door and window industries use finger jointed knotless pine for their products. On a large market like USA there are, however, some smaller segments, where the slowly grown Finnish type of fibre is favoured. Examples of these are the planed boards and glued structures sold in the "Home Center" type markets.
American customers are not biased: if the product is good, well priced and reliably delivered, they are prepared to give a chance to a new supplier.
The same pragmatic buyer expects, however, that the seller has got a competitive offer ready and that he genuinely aims at long-term business. Otherwise the buyer may feel that the seller is just wasting his time.
Russia and other areas
Russia as a neighbouring country to Finland, and especially St Petersburg, could be an interesting market, if there was better economic and political stability. Currently Russia is being seen as more of a competitor as a supplier than as a potential market for Finnish goods.
At some point the Indian potential as a market will be realized. Sales promotion has already been started there and the second most populated country in the world may become the next big, new market.
There are also sales to Australia, which has been taking weather boards for a long time and which has now started to take also structural timber from Finland. There have also been occasional deliveries to Southern American countries and South Africa.